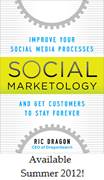 A search on the exact phrase "social media" on Amazon.com this morning provided me with 6,421 results, while "social media marketing" provided over 650 results. After I originally pitched Social Marketology, the publisher passed on the idea, for the very fact that there are so many books on the subject. Fortunately, my acquisition editor recognized that there were no books yet that provided a framework, or a set of processes, for social media marketing.
The Social Marketology framework consists of these major steps:
•  Desired outcomes – identifying and understanding the full landscape of purpose, vision, goals, objectives and  metrics
•  Brand voice and personality
• Audience and customer micro-segments
• Communities
• Influencers
• Action Plan
Two other major project types are covered:
• Big creative campaigns
• Reputation management campaigns
The book is predicated on several notions. The first is that social media occurs in patterns. If the marketer develops an understanding of these patterns, they'll have a better grasp of what might otherwise be mind boggling in its complexity. The second major notion is that there are different types of social media marketing projects, including brand management, community management, influencer outreach, and reputation management.  The final notion is that social media marketing can be accomplished using processes.
Processes don't have to be restrictive: in fact, they can be quite liberating. By understanding social media through these processes and patterns, the marketer can achieve better results that can be improved over time, and placed within the context of the larger organizational landscape.
Another feature of the book is that it introduces readers to a wide range of thinking that is relevant to social media, such as the psychology of social grooming, micro-reward systems, influence, anthropology, ethnography, and marketing history. While only an introduction to many of these topics, the book reveals that the study of social media marketing is rich territory worthy of any polymath.
Ric Dragon is the author of the DragonSearch Online Marketing Manual and Social Marketology (McGraw Hill 2012), and has been a featured speaker at SMX East, Conversion Conf, CMS Expo, and BlogWorld, on the convergence of process, information architecture, SEO, and Social Media.

To find out more on Social Marketology please go here and, for even more information and to take part in the launching event of this book please consider this your invitation to the launching party. To accept your invitation to this event, please go here.