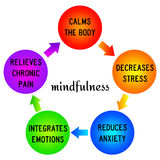 Living in Toronto, especially during the cold winter days like today, it is very hard to feel positive and motivated to do anything for ourselves at times. For entrepreneurs who are undergoing major stress, be it from life, work or a mixture of both, there isn't always much to do…or so it seems.
As part of a well balanced life, we need to think of a way to make ourselves happy with the resources that we have. One way that this can be done is through awareness of mindfulness meditation.
What is mindfulness meditation? According to Wikipedia, Mindfulness Meditation is an adaptation of Buddhist Vipassana meditation by which one learns to be mindful, "the intentional, accepting and non-judgmental focus of one's attention on the emotions, thoughts and sensations occurring in the present moment." Mindfulness meditation can become "a mental position for being able to separate a given experience from an associated emotion, and can facilitate a skilful or mindful response to a given situation."