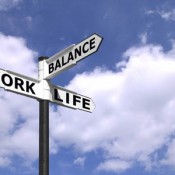 Many people start businesses so that they can work from home, leverage their time and spend more time with their families. Often times, this can be extremely difficult to do, especially at the beginning when sometimes you may still even be working a day job until your business takes off.
Even though the main reason we are putting in so many extra hours is because of our loved ones, ironically the opposite message can prevail – that work is more important. For this reason, it is so important to be aware and take steps towards some semblance of harmony in the home.
Schedule time to work and schedule time to "unplug"